Marissa Mayer Introduces Son Macallister at Halloween Party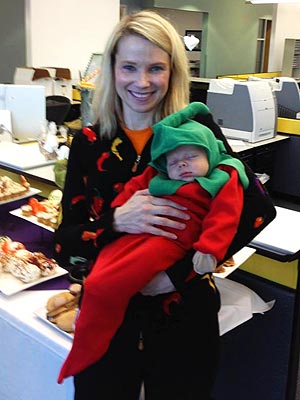 Courtesy Marissa Mayer
10/31/2012 AT 02:30 PM EDT
Yahoo CEO
Marissa Mayer's baby boy
has a name. Meet Macallister!
Just like she crowdsourced suggestions for a name on Twiiter after she gave birth in September, 37-year-old Mayer
Tweeted the news on Tuesday
.
"One month old – Macallister and me heading to YaBoo, the children's Halloween party at @Yahoo!" she wrote, posing with her son in complementary hot pepper getups.
Macallister's arrival was also
announced on Twitter
, when financier dad Zachary Bogue Tweeted, "Baby boy Bogue born last night. Mom (@marissamayer) and baby are doing great – we couldn't be more excited!"